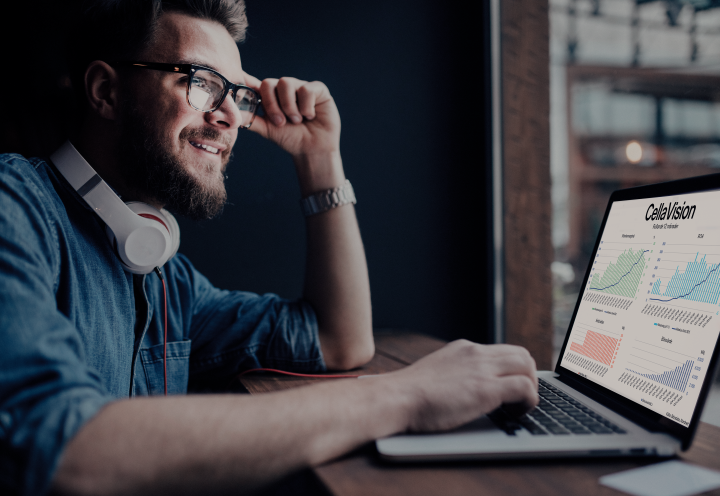 The CellaVision share
The CellaVision share has been listed on the NASDAQ Stockholm, Mid Cap since 2018. On December 31, 2022, the number of shareholders was 7,842, and the percentage of foreign-owned shares amounted to 53 percent. The Swedish institutional ownership was 32 percent.
Insiders
And their shares
Please visit the
management
page to learn more about the group.
Christer Fåhraeus
Board member
8.09%
Simon Østergaard
CEO
0.02%
Magnus Blixt
Management
0.02%
Peter Wilson
Management
0.01%
Jeppe Brandstrup
Management
0.01%
Mikael Worning
Chairman
0.01%
Adam Morell
Management
0.00%
Stefan Wolf
Board member
0.00%
Lotta Jarleryd
Board member
0.00%
Julien Veyssy
Management
0.00%
Urban Strindlöv
Management
0.00%
Louise Armstrong-Denby
Board member
0.00%
Christer Fåhraeus
Board member
8.09%
Simon Østergaard
CEO
0.02%
Magnus Blixt
Management
0.02%
Peter Wilson
Management
0.01%
Jeppe Brandstrup
Management
0.01%
Mikael Worning
Chairman
0.01%
Adam Morell
Management
0.00%
Stefan Wolf
Board member
0.00%
Lotta Jarleryd
Board member
0.00%
Julien Veyssy
Management
0.00%
Urban Strindlöv
Management
0.00%
Louise Armstrong-Denby
Board member
0.00%
Questions? We're here to help