Part #2: Less stress, fewer errors
As stress levels rise, errors creep in. To minimize mistakes in their hematology workflow and maintain top-quality patient care, Dr. Ananthvikas Jayaram and Dr. Sujay Prasad of Anand Diagnostic Laboratory, India, installed Digital Cell Morphology (DCM) technology to create a healthier, happier workplace for their staff.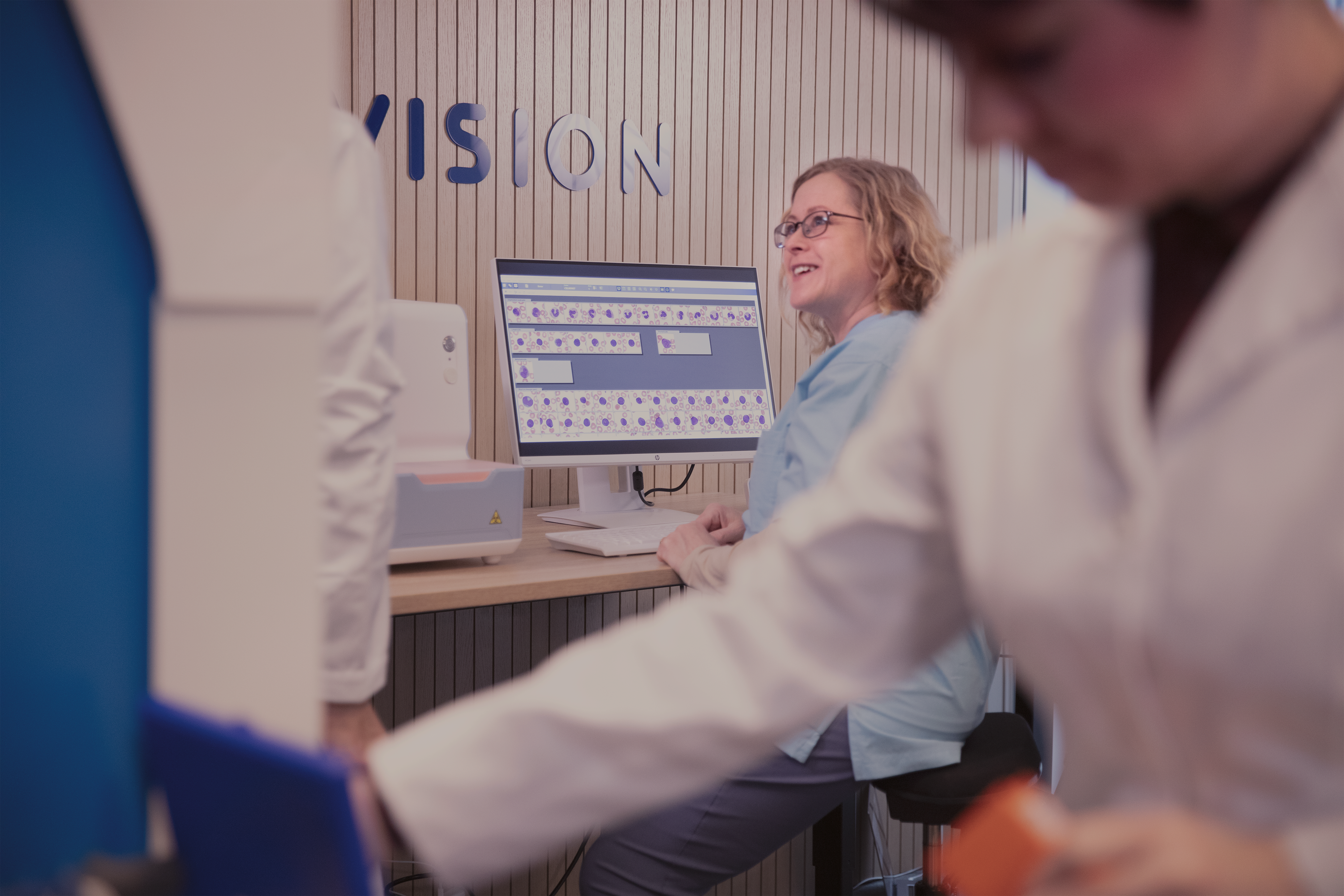 From physical to digital
The transformed, DCM-enabled slide review process increased efficiency and accuracy at Anand Diagnostic Laboratory, while reducing the strain and workload burden on staff. "The DCM technology makes the work a lot easier and less stressful," says Dr. Jayaram. "Since it came in, we hardly even notice that we're reviewing slides."
With DCM, slides are stained before being quickly and efficiently loaded into the digital system, rather than piling up in hard-to-organize physical trays. The resulting data is represented in a clear, accessible way within a digital library, and is searchable and easy to find on demand. Moreover, results can be viewed by multiple people at the same time, from workstations both within and outside of the laboratory, reducing the amount of wasted time spent sharing and transporting slides and enabling swift, convenient collaboration.
Streamlined and collaborative
Anand Diagnostic Laboratory found that their new, lower-stress work environment freed up time for technicians to focus on other tasks, as the time and effort involved in performing manual differential counts could be redirected elsewhere. It brought a connectivity and transparency that "gives our staff a full picture, so they're able to do more than they were doing before," says Dr. Prasad.
The DCM technology enabled more streamlined and collaborative ways of working. Staff could, for the first time, quickly and easily work together at a distance, benefiting more from one another's expertise and experience for cross-consultation. Technicians and pathologists no longer had to wait to physically receive slides to provide a second opinion, as they could view cell counter outcomes, flags and scatter plot data alongside DCM results on-screen at the click of a button. As DCM captures and stores slide data in a centralized digital database, personnel working in other areas—front office, reporting—and at other network locations were able to easily track the progress of a particular result without needing to check in with hematology staff.
"Our approach to working has changed completely," adds Dr. Jayaram.
"Rather than working in isolation, I can just call up my colleague and say, 'Have a look at this cell in this case.' Then we can discuss over the phone, rather than me having to take the slide there to look at it. We plan to install CellaVision systems at our two smaller satellite laboratories, which we set up in the past year, too, so that everything can be done as a team and more people are part of this process—despite them not necessarily sitting in the same physical location."
Stay tuned for part 3.